Texts: 2014
―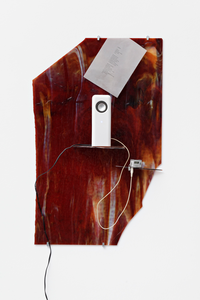 Natalie Häusler,
Aykan/Casino
, 2013, stained glass, speakers, mp3 player, sound, book page from 'still life', 78 × 48 × 16 cm. Courtesy: the artist and Supportico Lopez, Berlin; photograph: Hans-Georg Gaul
In the Company of Flesh and Blood
Approaching sincerity via poetry and art
by Matthew Rana
It was a question of sincerity that, in 1964, prompted then-poet Marcel Broodthaers to announce that he was becoming an artist. For the first time in his life, he claimed, he wanted to make something insincere: 'I, too, wondered whether I couldn't sell something and succeed in life,' he declared in the invitation to his first exhibition. 'I had, for quite a little while, been good for nothing. I am nearly 40 years old […] The idea of inventing something insincere finally crossed my mind and I set to work at once.' Broodthaers's rhetoric doesn't just suggest visual art's compromised status, sold as a commodity or an instrument of the culture industry or institutions of state. It also implicitly elevates poetry as neither false nor hypocritical – an invention of the utmost integrity. Unlike artists, poets don't (or can't) sell out. ...
Read the full article here:
http://www.frieze.com/article/company-flesh-and-blood

―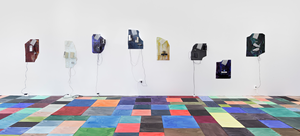 Case Mod
, Mixed media, Installation view Supportico Lopez, Berlin, 2013 (courtesy: the artist and Supportico Lopez, Berlin, Photograph: Hans-Georg Gaul)
FRIEZE FOCUS: NATALIE HÄUSLER
Painting, poetry and measuring movement

by Jennifer Allen
What a mess. When I walked into Natalie Häusler's solo show Case Mod at Supportico Lopez, Berlin in January, I expected to find the work I'd seen on the gallery's website. The installation shots of monika/subway (floor piece) (2012) promised a neat grid of cardboard tiles, painted in bright acrylic colours and covering the gallery's main floor. By the time I arrived, the tiles were wildly scattered and marred by dusty footprints. Häusler had fastidiously positioned them but failed to use glue. The mingling of guests at the opening had displaced them over the course of the evening. The most beaten footpath near the entrance bore the brunt of the destruction while tiles near the walls were untrampled. As an itinerary, monika/subway started as a grid of happy shades, only to end up mapping visitor traffic. But it was disturbing to see in one fell swoop this gradual accumulation of movement, which suggested a disaster and its victims, say, or the path of a tornado and the stampede of people escaping. Only then did it occur to me that a twister in slow-motion might look like a ballet of objects. And that Häusler's installation might be about measuring movement, speed, duration – a kind of action painting in an expanded field. ...
Read the full article here:
http://frieze-magazin.de/archiv/features/natalie-haeusler/?lang=en

―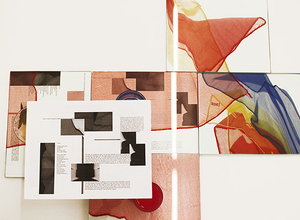 Natalie Häusler,
RYB/RGB/CMYK (red)
, 2011
Courtesy: Supportico Lopez, Berlin. Photo: Warhus Rittershaus

The artists Gerry Bibby and Natalie Häusler, both based in Berlin, weave their works of sculpture, installation and performance around text sources. Sharing the particularity of using a process that starts with words, the two artists produce an equally original conversation as a result of a fleeting encounter and an exchange of their writings and poems. here's the outcome: thoughts on the meaning of their respective practices, in a dense, poetic attempt to track down and explore common ground.
Find the article here:

www.moussemagazine.it/articolo.mm?id=956