On the Golden Wire for Thirty-Four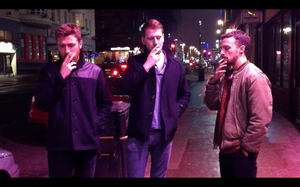 Opening: Friday, March 15th, 7-9pm
March 15- April 12, 2013
Nurture Art Gallery
56 Bogart Street
Brooklyn, NY, 11206
NURTUREart is pleased to present On The Golden Wire for Thirty Four, a collaboration between Marysia Gacek, Natalie Häusler, and Katharina Marszewski. Starting with the general idea of an exchange of content between artists, the initial focus is put on the materiality of such content, rather than its possible meaning.

The point of departure is the limit: weight and volume of the most standard international package between the USA, UK and Germany. Each collaborator supplies one third of the materials and contributes to one Care Package*, which will travel from New York to Berlin to Glasgow to Berlin, before returning to its city of origin.

This exchange of matter focuses on the process, rather than what it manifests itself as in the end. The package is meant to supply three artists with the same materials to work with, without a pre-envisioned outcome. The collaboration examines individual methodologies leading to creating work using a model of giving and taking away.

When the package returns to New York, it will be put on display alongside artworks inspired by its content in a gallery exhibition at NURTUREart.
*Although "CARE package" is a registered trademarked term, originating in the wake of a World War II campaign to send food and supplies to Europe, the expression is still used in everyday vernacular to share the idea of providing comfort by sending food, supplies and small mementos. In 1945 Americans were given the opportunity to purchase a care package for 10 dollars to send to their friends or relatives. In 1962 President John F. Kennedy said that every CARE package is a personal contribution to the world peace and it expresses concern and friendship in a language all peoples understand.

NURTUREart Non-Profit Gallery
56 Bogart Street
Brooklyn, NY 11206
718 782 7755
www.nurtureart.org

contact: rachel@nurtureart.org
open hours: Thurs through Mon | 12 - 6
Directions to NURTUREart Gallery:
L train to the Morgan Avenue stop. Exit the station via Bogart Street. Look for the NURTUREart entrance on Bogart Street, close to the intersection with Harrison Place.
NURTUREart Non-Profit Inc. is a 501(c)(3) New York State licensed, federally tax-exempt charitable art organization founded in 1997 by George J. Robinson. NURTUREart is funded in part by City Council Member Diana Reyna, City Council Member Stephen Levin, the Greenwich Collection, the Harold and Colene Brown Foundation, the Laura B. Vogler Foundation, the Joan Mitchell Foundation, the Lily Auchincloss Foundation, the Milton and Sally Avery Foundation, the New York City Department of Cultural Affairs, the New York City Department of Education, The New York State Council on the Arts, Urban Outfitters, The Wolf Kahn and Emily Mason Foundation and generous individuals. NURTUREart is grateful for significant past support from the Andy Warhol Foundation for the Visual Arts, The Liebovitz Foundation, and the Greenwall Foundation. It receives legal support from Volunteer Lawyers for the Arts.