Pull the Stops Out, Come On!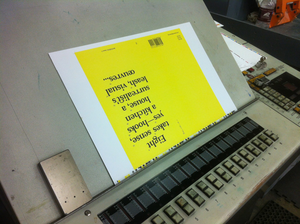 THE BERLIN LAUNCH OF


MATERIAL ISSUE 3



August 11, 2012. From 7 p.m.

Motto Berlin
Skalitzer Str. 68, im Hinterhof
10997 Berlin
U1 Schlesiches Tor

Ph: +49 (0)30 75442119
www.mottodistribution.com (Skalitzer 68 - 2012)

MATERIAL's launch is part of SKALITZER. '68. Skalitzer. '68 invites artists, editors, performers for a series of lectures, presentations, exhibitions and events which will take over the spaces of Chert, Motto and Silberkuppe each Saturday, between July 21 and August 25.


MATERIAL
We are excited to announce the debut of MATERIAL Issue Three. We have pulled all the stops out to put out this issue, including the first appearance of color (banana yellow!) in the journal's design, this year by Zakary Jensen. Issue 3 has it all: hooks, minutemen, yes men, stray bunnies, billboards on the fritz, carnivorous coral, handwritten notes, rifts, wrists, fistfights, the sea and the seashore—
Our first launch will be in Berlin at the Motto bookstore on August 11th, 2012. Stephanie Taylor and Alice Könitz will give a live, costumed performance of their piece from Issue 3: A Leash for Fritz and Kale for Stray Bunny. The evening will also feature a special guest performance by artist David Raymond Conroy, Disappointment as Strategy. Natalie Häusler will present the new installation For Ann (rising) in the showcases, which will remain on display for the occasion.
Farrah KarapetianPaul ZelevanskyRenee PetropolousNate HarrisonJames WellingNatalie HäuslerHarold AbramowitzShana LutkerStephanie Taylor & Alice KönitzFrank ChangEmily Mast