THE FAIR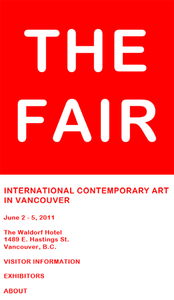 International Contemporary Art in Vancouver // June 2 - 5, 2011
THE FAIR: International Contemporary Art in Vancouver opens next Thursday, June 2nd. 18 local and international commercial galleries, non-profit artist-run centers, independent project spaces and institutions join together and exhibit contemporary art.
THE FAIR is hosted by The Waldorf Hotel. After 63 years in business The Waldorf Hotel has been re-imagined as a creative compound where contemporary art, music, food, and culture convene under one roof.
June 2 - 5, 2011
The Waldorf Hotel
1489 E. Hastings St.
Vancouver, B.C.
ADMISSION IS FREE
Hours Of Operation:
Opening Reception: Thursday, June 2, 7pm - 11pm
Friday, June 3, 5pm - 11pm
Saturday, June 4, 1pm - 5pm
Closing Reception: Saturday, June 4, 7pm - 11pm
Sunday, June 5, 11am - 2pm
For more information please contact Lucas Soi, Director.
Phone: +1 (604) 618-4064 Email: info@artaftermoney.com
List of Exhibitors and Artists:
304 Days (Vancouver), 304 Days: Project Catalogue Book Launch and Artist Editions/ Access Gallery (Vancouver), Elizabeth Milton/ Black & Yellow Gallery (Vancouver), Jordy Hamilton, ChunPing Huang, Nathan McNinch/ Butcher Gallery (Toronto), Catalogue Of Our Peers Zine Launch and Video Screening/ Deluge Contemporary Art (Victoria), Leigh Bridges, Tamsin Clark, Arian Dylan, Lee Hutzulak, Daniel Laskarin, Neter Artist Collective, Mark Neufeld, Jennet Thomas/ Fillip (Vancouver), David Horvitz/ Goethe Satellite Vancouver (Munich)/ Revised Projects, Dida Zende/ Hedreen Gallery (Seattle), Jason Hirata, Rebar Niemi/ Hunter and Cook (Toronto)/ Nicole Ondre, Ron Tran, Tony Romano, Sam Falls, Jessica Eaton, Jay Isaac, Aaron Carpenter, Mark Dudiak, Jake Kosciuk/ Lawrimore Project (Seattle), Elias Hansen + Oscar Tuazon, Read More, Carolina Silva, SuttonBeresCuller, Isaac Layman, Jennie C. Jones, Wynne Greenwood, Susan Robb, Leo Saul Berk, Matt Browning, Cris Bruch/ LES Gallery (Vancouver), Andre Ethier, Shayne Ehman, Charlie Roberts, Heidi Johansen, Anders Oinonen, Dan Siney/ Motto Books (Berlin / Zurich)A Selection of New Publications/ Or Gallery (Vancouver / Berlin), Various Artists and Video Screening/ Preteen Gallery (Mexico City), Petra Cortright, Season (Seattle), Lucas Blalock, Dawn Cerny, Natalie Häusler, Rachel Kaye, Adam Marnie, Shannon McConnell, Philip Miner, Peter Scherrer, Mike Simi, Bradley Rubenstein, Jesse Sugarmann, Ian Toms, Marius Wilms/ Unit/Pitt Projects (Vancouver), Various Artists and Radio Transmission/ VIVO (Vancouver), A Selection From The Archives Western Front (Vancouver)/ Nicolas Sassoon, Sylvain Sailly