In the Company of Flesh and Blood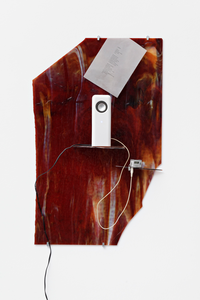 Natalie Häusler,
Aykan/Casino
, 2013, stained glass, speakers, mp3 player, sound, book page from 'still life', 78 × 48 × 16 cm. Courtesy: the artist and Supportico Lopez, Berlin; photograph: Hans-Georg Gaul
In the Company of Flesh and Blood
Approaching sincerity via poetry and art
by Matthew Rana
It was a question of sincerity that, in 1964, prompted then-poet Marcel Broodthaers to announce that he was becoming an artist. For the first time in his life, he claimed, he wanted to make something insincere: 'I, too, wondered whether I couldn't sell something and succeed in life,' he declared in the invitation to his first exhibition. 'I had, for quite a little while, been good for nothing. I am nearly 40 years old […] The idea of inventing something insincere finally crossed my mind and I set to work at once.' Broodthaers's rhetoric doesn't just suggest visual art's compromised status, sold as a commodity or an instrument of the culture industry or institutions of state. It also implicitly elevates poetry as neither false nor hypocritical – an invention of the utmost integrity. Unlike artists, poets don't (or can't) sell out. ...
Read the full article here:
http://www.frieze.com/article/company-flesh-and-blood